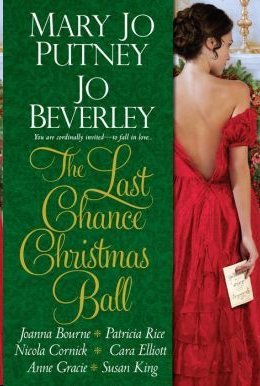 An excerpt from
MISS FINCH AND THE ANGEL
from
THE LAST CHANCE CHRISTMAS BALL




"Eight romance authors (collectively known as the Word Wenches) walk into a Regency-era ballroom and wreak fabulous, shimmering holiday mischief all over the place." Publishers Weekly

"Each author's unique style and storytelling talents are at their best, gifting readers one scrumptious treat after another. The same plot threads and characters weave in and out of each tale, glowing with the joy and romance of the yuletide." - RT Book Reviews

Gabriel strolled into the drawing room to find the ladies sitting in groups and Lady Garway playing the piano, very well. His quarry was sitting at a distance from the fireplace talking to a large older lady. Ah, that was Mrs. Pennard, a distant relative of the countess's who'd been given the sinecure of companion so as to have a home and income.
The gentlemen spread out to mingle with the ladies. He strolled over to the quiet couple.
"Mrs. Pennard," he said. "How delightful to see you again."
The older lady smiled, and even blushed a little. "So kind of you to remember me, Lord Gabriel."
"It's not much over two years since I last visited, ma'am."
He turned to the Finch, but she rose. "I should relieve Lady Garway at the instrument."
He glanced over. "I believe Miss Minchingham will beat you to the opportunity to shine before the gentlemen."
Ah-ha! A blush. And it did improve her, but he noticed that she'd re-imprisoned that wanton lock.
"Please don't hurry away, Miss Finch. I hope to hear more of Miss Bunting." Her eyes flickered around as if seeking escape, but then she sat again. He moved a chair closer and sat down. "Was it truly a love match?"
"I wasn't here, my lord. Mrs. Pennard knows much more."
Mrs. Pennard obliged with a full and boring account of courtship, hesitations, and final connubial bliss. Miss Finch sat, hands in lap, and Gabriel saw why Edward thought her invisible. She was trying to disappear. Perhaps he should call her the "gray ghost." The "pallid green ghost" did not have the same ring.
"Will you attend the ball, Mrs. Pennard?" he asked when he had the chance.
"Oh, yes, my lord. I always do. So kind. Of course, I do not dance much. Such exertion as one gets older, and unpleasant to perspire. But I do enjoy a quieter set."
"And you, Miss Finch?"
"I will not attend."
Mrs. Pennard obliged with the protests. "But you must, my dear! The dowager will be most disappointed if you do not."
Miss Finch frowned. "Why? Will she need my services?"
"She likes to see people enjoying her Christmas ball," Gabriel said. "It has a long tradition, and it's been the spark for a number of happy unions. You can have no objection to a ball, can you?"
"I don't think it's suitable for someone in my position, my lord."
"Mrs. Pennard plans to attend," he reminded her.
Her lips tightened in annoyance at being caught out on that. "I didn't mean to imply . . ."
"Of course not, dear," Mrs. Pennard said, patting her hands. "And I'm sure in some houses ladies such as we would not be invited, but I assure you that's not the case at Holbourne. You will be welcome, indeed obliged, to attend."
"Then, of course I must." Surely no other lady had heard sentence of dancing with a heavier heart.
Gabriel's idle interest turned to sharp curiosity.
Who are you, Finch?
What is your story?
"Do you perhaps need practice in dancing, Miss Finch?" he asked. "We have a day before the ball, and I'm sure any number of people would enjoy an afternoon dancing party to learn some new steps."
"I will attend, my lord, but I won't dance. I assume that is not an obligation."
"Goodness, dear, do you have moral objections?" Mrs. Pennard asked.
"I simply do not care to dance." Distinctly harried, the Finch rose. "Excuse me. I must see if Lady Holly requires anything." She went to the dowager. A moment later she left the room.
Full retreat.
"Odd lass," Mrs. Pennard said. "Never know what's going on in her head."
In general, Gabriel wouldn't indulge in this sort of gossip, but he felt the need. "Do you know her background? Daughter of a clergyman, or such?"
"A country family, I believe—squirearchy—but I've heard no details." She lowered her voice. "It's clear she's a charity case, of course. Probably gaming. Father ruined. Blew out his brains. Left daughter destitute."
It wasn't impossible, but Mrs. Pennard had a taste for overblown drama.
"Or simple misfortune or mismanagement." He'd mined Mrs. Pennard for all she had to offer and was pleased when the chaplain came to invite her to make up a table for whist. Three tables were forming, but Gabriel evaded involvement there. He had a wager in hand. He'd wanted a word with Roxie, but she must have already left.
Lady Holbourne was merely supervising the whist, so when all was settled, he went to her. "A word with you, Aunt Elizabeth?"
He'd called her that since a lad. She smiled and sat on a sofa a comfortable distance from other non-players. "Are you about to confess a sin, Gabriel?"
"Would you give me absolution?"
"Probably. I've never known you do anyone harm. The dowager is already brighter for your arrival."
"Then I'm pleased, but that leads to my topic. Miss Finch."
She pulled a face, sighing.
"Do you know her background?" he asked. When she frowned, he said, "I'm not digging for gossip. I want to make Lady Holly happier. She's invited a couple of ladies to the ball with an eye to matchmaking. Might it not serve to add Miss Finch to the number?"
Lady Holbourne was startled, but quick. "Find her a husband? But who would be interested?"
"She's not entirely an antidote," Gabriel said, surprised by a spurt of annoyance. "Before I meddle there, I need to know who Miss Finch is."
"Ah, I see. No, we wouldn't want to countenance a misalliance. You'll have to ask Lady Holly. She said a friend had asked her to take in a lady who'd been left destitute."
"But of good family."
"I assume so."
"Herefordshire?"
"Or Hertfordshire. Does it matter? She has the manners of a lady from birth, but no money. I wish her well, but rate her chances slim."
"She'll present better in a fetching gown."
"If one was found, she'd not wear it. I've offered to improve her wardrobe and been frozen out."
He knew women who lacked taste, and others who chose sober styles for moral reasons, but why would any woman choose to be badly and bleakly dressed when offered an alternative?
Pride?
He was sure the offer had been made tactfully.
"She's a servant," he said bluntly. "If Lady Holly and you insist that she dresses suitably for the ball, she'll have to bend."
"Or break. What are you up to?"
"You think I'm expending this effort in a cruel trick? I want Lady Holly happy, and though I don't have her blissful view of marriage, surely a suitable one would improve Miss Finch's state?"
Lady Holbourne considered, and then said, "Very well. I see nothing wrong with your trying as long as you don't press her too strongly. You seem to have overlooked a substantial obstacle, however. I'm sure she owns no suitable gown and it's far too late to obtain one."
"Any obstacle is merely a challenge. I have a plan."
She rolled her eyes. "When any of you boys said that it predicted disaster."
He chuckled. "I can think of many, but this won't be one."

I'd appreciate it if you'd post about this excerpt on Facebook or other social media, or tweet.


Published on 29th September 2015.

Amazon US.
Amazon UK.
Amazon Canada
Amazon Australia
From Booktopia, Australia
For iTunes
For your Nook
From Books a Million
From the Book Depository, which ships for free around the world.


Explore the Word Wenches blog.

Back to the main page.