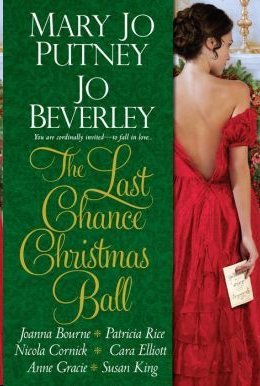 The prologue to
the Word Wenches anthology
THE LAST CHANCE CHRISTMAS BALL

written by Jo Beverley, and introducing her mysterious heroine.



"Eight romance authors (collectively known as the Word Wenches) walk into a Regency-era ballroom and wreak fabulous, shimmering holiday mischief all over the place." Publishers Weekly

"Each author's unique style and storytelling talents are at their best, gifting readers one scrumptious treat after another. The same plot threads and characters weave in and out of each tale, glowing with the joy and romance of the yuletide." - RT Book Reviews

Prologue.
"You write a neat hand, dear."
Clio Finch looked up at the elderly lady and smiled. "Thank you, Lady Holly."
The Dowager Countess of Holbourne preferred to be called that and Clio was happy to comply. She'd do almost anything for her generous benefactor, but she knew she was lacking in one respect. She couldn't match the lady's bright jollity.
Lady Holly looked her seventy-odd years, but in the best possible way. Her hair was silver rather than gray and bubbled out from under pretty caps. Plumpness softened her wrinkles and her eyes were the brightest blue.
She always dressed in the latest fashions. No eternal black for this widow. Today she was in a high-waisted gown made in a vibrant flowered print. During the three months Clio had been here as the lady's companion Lady Holly had gently pressed her to wear brighter clothes herself, even offering to buy them for her. Clio hated to disoblige the kind lady, but she couldn't, she simply couldn't, so she used her own mourning as excuse, though her traditional mourning period was over.
Writing out the invitations to the Christmas ball was a rather tedious task, but Clio welcomed it. At last she was truly being useful. She'd make quicker work of it without Lady Holly's interference, but the lady had taken a seat beside her at the table in the light of the window and as usual, was chattering.
Lady Holly picked up the list she herself had written out, so Clio felt free to dip her pen and continue the set phrases.
...at Holbourne Abbey on Thursday, the twenty-eight of December...
"It's my fiftieth, you know."
Clio looked up again. "Fiftieth?"
"Ball, dear! Fifty years."
"My goodness, that's extraordinary."
"It is, isn't it? I never imagined that when we held the first. I'd always adored Christmas, but his mother was the sort not to encourage "dissipation in a holy season" as she put it. Once George was earl, however, and his mother removed to the dower house…. So lovely, don't you think, that neither John nor Elizabeth have ever suggested that I move there. Once we were free to do as we pleased, what could be more splendid than a glittering event in the dead of winter? Everyone attends, and it has quite a reputation by now. So many matches have begun or been accelerated by Lady Holly's Christmas ball."
Clio smiled again, but her logical mind said that an annual event was likely to intersect with many a courtship at some point, rather than the event itself having any power.
"That's why I'm inviting Miss Langsdale and Miss Fenton this year. I will be writing those, dear, so you can note that on the list." She passed it over and Clio made the mark. "I hope some of the magic will rub off on them," Lady Holly said, "for I fear this might be their last chance. Allie Fenton means to take employment, can you believe, and Sarah Jane Langsdale speaks of opening an orphanage!"
"They don't usually attend, ma'am?" Clio asked.
"I have always invited them, of course. They're god-daughters of mine. But Allie has had to take care of her mother, and then her father, and Sarah Jane ceased attending some years ago. I fear she feels she's past frivolity. So foolish."
Clio could sympathize with that. She couldn't imagine ever indulging in frivolity again. Perhaps the young women also felt a little out of place. They weren't truly in the Holbourne Abbey circle anymore than Clio was, which was why she was a companion not a guest here. She had no faith in the ball magically making such ladies desirable brides.
"And Clary Douglas is to come this year from Scotland, along with some others," Lady Holly said. "She's not on the list because I invited her in a letter some weeks ago, pointing out the significant anniversary. It's so long since we saw her and our Scottish friends. Perhaps they'll show us how to celebrate Hogmanay."
"That will be interesting, ma'am. I understand the Scots have their own special traditions and don't celebrate Christmas much at all."
"Except in the religious sense. Christmas has become so dull in England these days. I've heard people say that holly and mistletoe, and especially the Yule log, are pagan. Such nonsense! The German members of the royal family bring whole trees into their houses at Christmas and light them with candles. I have thought of doing the same, but even after all these years the Germans aren't very popular, are they?"
Clio ignored that tricky question and began a new invitation.
Dear Lord Claymott, Lady Holly requests the pleasure of....
"1765," the old lady said. "That was the first ball. The king was young and the Regent a mere lad. Everything seemed set to be splendid. We had no notion of the Americans turning away from us, the revolution in France, and that dreadful Napoleon Bonaparte. But the ball has been held every year, come what may. Even weather has never interfered. That must mean it's blessed, mustn't it?" She added the last sentence rather desperately.
"It must." Clio put as much conviction into it as she could, for she could see where Lady Holly's mind had turned.
Kim Stretton, the younger son of the house, had chosen a career in the army and fought at Waterloo. By God's grace he'd survived, but he'd been badly wounded. He'd returned home to heal but taken up camp in the old tower that was attached to the modern house. His servant came and went but even his family were excluded. Clio had never seen him.
She wished she could. It wouldn't matter how hideously he was disfigured, she'd treat him warmly. As she would have treated Will if he'd returned to her, no matter how crippled or scarred. She fought tears. It would never do to blot her work with one and her sorrows were her own.
"And then there's Caro," Lady Holly said, moving on as if they'd completed a silent conversation. "I do hope she'll attend, with Camden, of course."
"I'm sure they will."
"I'm not." Lady Holly could be trenchant when she pleased. "Everyone tries to keep unpleasantness from me, but I know she's dancing with scandal in Town, and as good as living apart from her husband. Too young to wed. Perhaps I should have said something, but they seemed to be in love."
"Best not to interfere, ma'am. Lovers never listen."
"It is a madness, isn't it?"
Clio agreed, but Lady Holly's tone seemed idiotically nostalgic.
"I do hope the insanity strikes Edward soon," Lady Holly said. "It's time he wed, and we must have an heir."
Edward was Viscount Brentford, the elder son of the house and an admirably steady man. The Strettons were a solid, pleasant family and she was blessed to have been given refuge here. She prayed events would work out splendidly for all of them.
Lady Holly considered the sheet of names again. "I'm not sure there's anyone here to suit him and I can't think of anyone to add. He's known everyone hereabouts all his life. There is Roxie, of course...."
Roxanne Hayward had inherited an adjoining estate and ran it herself. She'd grown up as part of the Stretton family and was in and out all the time, red hair wild and clothing more practical than fashionable. Would she actually dress up finely and attend a ball?
"I'm just about to write that invitation."
"Oh no, leave that to me as well. She's as good as family. It would be an excellent alliance -- two estates running together -- but I did think at one time she and Kim had a tendre."
"Time changes people," Clio said, then realized it was unfortunate and grasped for something else to say. "The next name is Gower. Are they family connections?"
Lady Holly wrinkled her nose. "John Gower's wife was a distant cousin. I had her daughter Mary here a few times when she was a child. Gower hinted so broadly for an invitation that I felt I must give in. I suppose he wants to dangle that poor girl before eligible men. I hope he doesn't have his eye on Edward."
Clio's eye had moved on. "Who's Lord Gabriel Quinfroy?"
Lady Holly's face lit. "A charming scamp and an addition to any social occasion. Son of the Duke of Straith and wealthy in his own right. Of course it's spoiled him and women tumble at his feet, but he's too delicious for anyone to mind."
I mind, Clio thought, tempted to neglect to send the vile seducer an invitation. It wouldn't do, but when she wrote out his invitation she tried to imbue the ink with a powerful repellant force.



The anthology continues with
My True Love Hath My Heart, Joanna Bourne

A Scottish Carol, Susan King

Christmas Larks, Patricia Rice

In the Bleak Midwinter, Mary Jo Putney

Old Flames Dance, Cara Elliott

Miss Finch and the Angel, Jo Beverley

Mistletoe Kisses, Anne Gracie

A Season for Marriage, Nicola Cornick




More information, including excerpts, will be coming soon, but you can pre-order your print or e-book copy now at your favorite bookseller.
Amazon US.
Amazon UK.
Amazon Canada
Amazon Australia
From Booktopia, Australia
For iTunes
For your Nook
From Books a Million
From the Book Depository, which ships for free around the world.


Explore the Word Wenches blog.

Go to Jo Beverley's opening page.