Site Menu | New Books | Bio | Newsletters | Simple Booklist | Annotated Booklist | Media Page |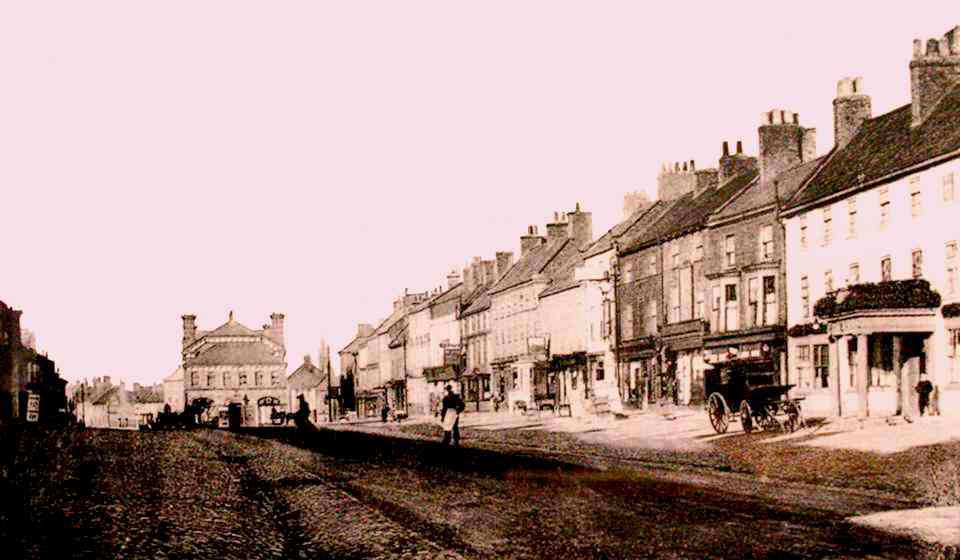 A picture of Northallerton High Street in the early 20th century. It probably isn't wildly different to when Prudence lived in a lane running between some buildings, but on the left, which is hardly glimpsed here. To the right, at the edge, the pillared building is the Golden Lion Inn, one of Northallerton's finest, where Cate halts en route home as the shockingly new Earl of Malzard.


A little bit more of An Unlikely Countess




This excerpt comes the next day, and introduces a new character, Hetty Larn. I'm delighted that the reviews of An Unlikely Countess have picked up that while this is a full-blooded romance, it's also about women in Georgian England at all levels. Because of her situation, Prudence mixes with the poor of White Rose Yard in Northallerton, the worthy middle class of Darlington, and the elite at Keynings, seat of the earls of Malzard. These interactions complicate her life in many ways, but enrich it, too.

&nbsp Prudence shook away all thought of Cate Burgoyne, put the shillings in her pocket, and hid the pin in the back of a drawer. Then she built a small fire in the hearth to boil the kettle. After some bread and a cup of dandelion tea, she took out one of her last sheets of writing paper, mended the pen, and sat to compose exactly the right letter to Aaron.
She'd completed only one careful sentence when Hetty Larn came in through the back door. "Here's yer bread, Miss Youlgrave."
Prudence put her letter aside. "Thank you, Hetty."
"It's no trouble, miss."
Hetty was slim and homely, but had a brightness about her that astonished Prudence. How could anyone be bright when living in the poverty of White Rose Yard? Perhaps Aaron saw it as draped with roses, even in March, but the name came from the property on the High Street whose land this was.
The tavern called the White Rose.
Hetty lived next door with her husband, Will, and her two young children, who were grinning from against their mother's skirts. Toby trotted over, tail wagging. Giggling, the children knelt to play with him.
Prudence's mother had had a kind heart, but even so, wherever they'd lived, she'd insisted on keeping a distance between them and their lower-born neighbors. On her own, Prudence had been unable to be discourteous. This row of cottages backed onto a narrow common area where some grew vegetables or kept chickens, and everyone hung out washing. Front and back doors stood open in fair weather, and neighbors came and went.
The day after she'd moved in, Hetty Larn had knocked at the front door. Prudence had learned that was appropriate for a first visit. There was etiquette, even in White Rose Yard.
Hetty had offered a small pile of fresh haverbread, the oat pancakes eaten by the poor here more often than wheat bread. Prudence had been taken aback, but she'd known it was kindly meant, so she'd accepted the gift with thanks.
From there she'd slid—downhill, her mother would say—into familiarity. It was a kind of business arrangement, however. Hetty baked extra haverbread for her, and Prudence looked after her children for an hour or so now and then.
She'd found children a surprising amount of work and come up with the idea of teaching them their letters to keep them out of mischief. To her surprise, they enjoyed it, and the boy, Willie, was quick and clever. Hetty was over the moon.
Prudence took down the package of teaching materials she'd made, and the children ran over to scramble up onto two stools at the table.
"It's good of ye to teach 'em, miss."
"It's good of you to bake for me, Hetty. I've never quite found the way of it."
"'Tis easy enough. I could teach ye."
Prudence smiled, but it covered a spurt of outrage. She'd never need to know how to make haverbread, or any sort of bread. She was destined for better things.
"I could teach you to read, Hetty."
"Me! Lawks, miss, there's no point in that. But there's likely other parents here who'd be happy for ye to teach their little 'uns."
"Set up a school?"
Hetty stared, as well she might when she had to know Prudence's poverty. But to set up a school would be even worse than becoming a governess. It would confirm eternal, scrimping spinsterhood. It would be defeat.
"I don't expect to be here much longer," Prudence said. "Now that the first part of my mourning is over, I'll soon be moving to live with my brother in Darlington."
"Oh, that's a shame, miss."
Prudence bit back a response and turned to the table, where she unfolded the package to reveal the alphabet. Each square of paper held a letter and a little picture. There were other pieces of paper with words on them.
She gave each child a word. "Now find the letters that make up the word, dears." She put a brown pottery dish in front of each child, sprinkled it with flour, and put a pen-size stick beside it. "When you've made your word, try to write it in the flour."
Willie immediately took the stick and carefully formed "cat."
Hetty looked on adoringly. "Such a treat t'see them making letters, miss."
"They're both clever children." In fact little Sarah showed no great signs of cleverness, but Willie was clearly capable of achievement if he'd been born into another station in life.
"Oh, I meant to ask," Hetty said. "Are y'all right after last night?"
Prudence froze and turned slowly to face the other woman. "What do you mean?"
"We 'eard old Mr. Brown calling for sum'un to stop what they were doing. Will looked out, but there was no one to be seen. But this morning old Brown said as 'e were sure people 'ad been lurking in the shadows outside our 'ouse and whispering as if up to no good."
"Truly?" Prudence said, eyes as wide as she could make them. "Has anyone's house been broken into?"
"Not so far as I know, miss, and I'm glad you weren't disturbed. Well, I'll be off. Some jobs are so much easier without little 'uns around. You be good, young Willie and Sarie!"
She left and Prudence blew out a breath. She'd been slow in writing her letter because her mind had wandered so often to dashing Cate Burgoyne, but he'd been part of insanity. Last night could so easily have left her with a tarnished reputation, which would have meant the ruination of all her hopes.
She sat down with the children, resolved to think no more of him. She'd finish her letter and send it off. Aaron would see the justice of her complaints and invite her to live with him in Darlington after his marriage. There, she would be able to find a suitable husband.
A good, worthy man of her own station, not a highborn wastrel like Cate Burgoyne.


You may want to follow my Author Page on Facebook. Click on the box below to go there, and then click the "like" button at the top of the page next to my name. That will help my posts to appear in your feed.




However, Facebook doesn't send every message to everyone who's liked an author page, so it's best to also sign up for my newsletter to be sure you hear the latest about releases, deals and such. The addresses are never shared and you can leave at any time.
Also, there will be occasional giveaways to people randomly picked from newsletter subscribers.

Back to the site menu