I've chosen pictures here of medieval life which also, I hope, show that they loved color and brightness.




From the Bayeux Tapestry of the Norman Conquest.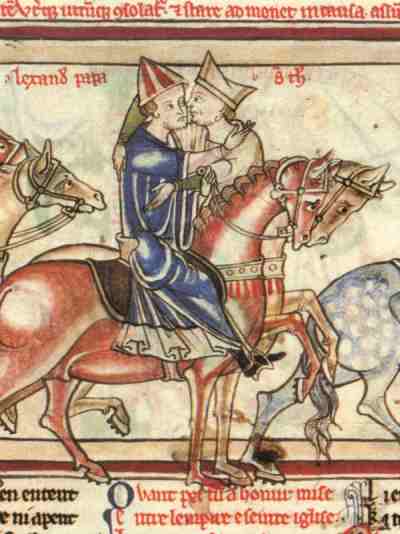 Two churchmen giving the kiss of peace. 1240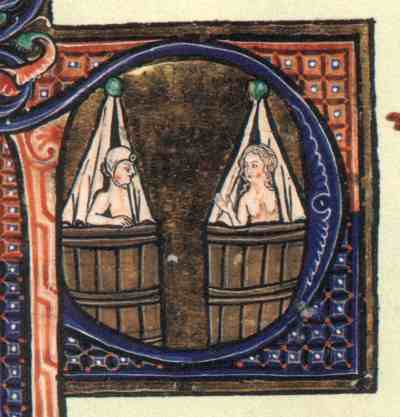 In many times and places, they liked to bath!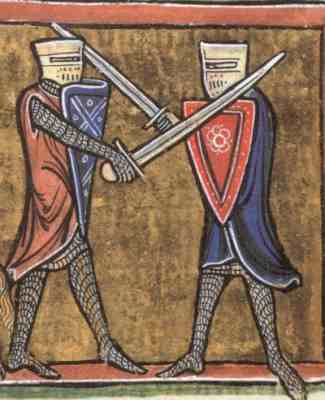 12th century warriors.
An Annotated List of Jo Beverley's medieval romances.
These medievals are set from 1066 into the early eleven hundreds, when people lived on the edge of survival and yet created art, music, and the great cathedrals. I chose a warm red colour here because the medieval period was not grey and grim. They loved bright colours and created as much comfort as possible. The Bayeux Tapestry itself is a wonderful work of art.


LORD OF MY HEART (RITA finalist)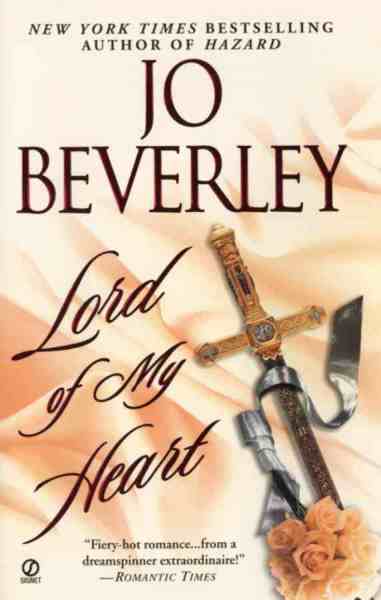 Available as an e-book. Click here. Also available in print.



When William of Normandy invades England in 1066, Aimery de Vaux is in an unenviable position. His father is Norman count and Duke William is his godfather; but his mother is an English lady, and his uncle is Hereward the Wake, leader of the English resistance. Knowing his godson is torn in his allegiances, William forces a marriage with a Norman lady who has inherited estates in England. Madeleine of Baddersley finds her husband attractive, but she has excellent reason to believe him a traitor. how can she give her body or her heart to a man she cannot trust?

"an unforgettable... love story from the pen of a dream spinner extraordinaire." Romantic Times.
"This work is a tapestry of historical detail, filled with so much depth and beauty that it not only stirs the heart but stimulates the intellect as well." The Anastasia Gazette.
Excerpt from Lord of My Heart

DARK CHAMPION (RITA finalist; winner of the Golden Leaf award, Best historical)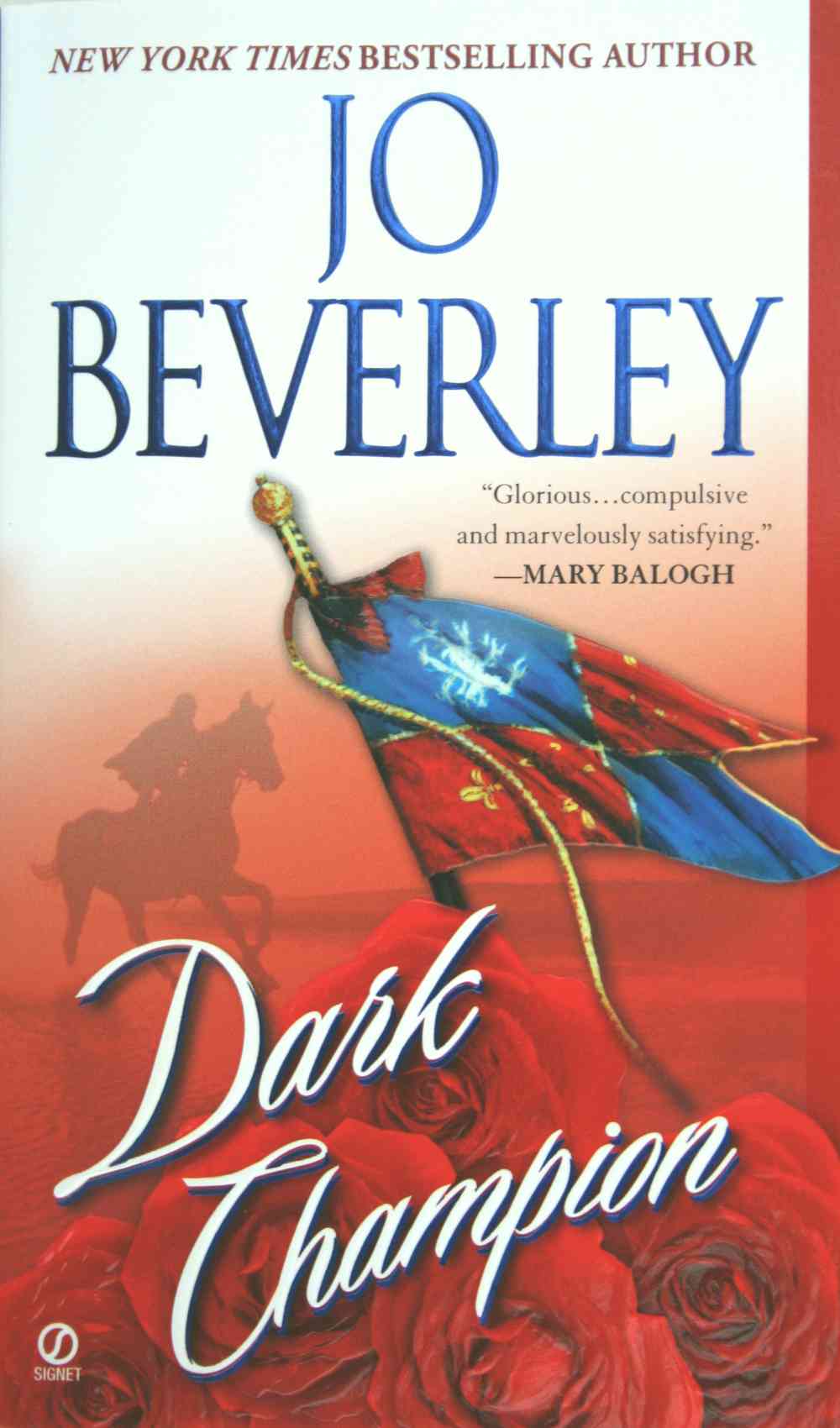 Available as an e-book. Click here. Also available in print.


Imogen of Carrisford is a great heiress placed in peril my her father's sudden death. When her castle is overrun by a brutal neighbor, she flees to the only possible help, FitzRoger of Cleeve, even though he is known as a harsh man.

FitzRoger efficiently retakes her castle, but then Imogen seems to have no choice but to marry him, especially as the king supports the match. Thus begins a power struggle between them, complicated by greedy enemies, and leading them both into deadly danger.

"No one has ever made the period around 1100 come alive as Jo Beverley has done with this splendid historical," Rendezvous "...a brilliantly colored tapestry of the glory of the era."
Excerpt from Dark Champion

THE SHATTERED ROSE Zebra, May, 1996
Reissue, October 2014.
Available as an e-book. Click here. Also available in print.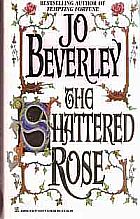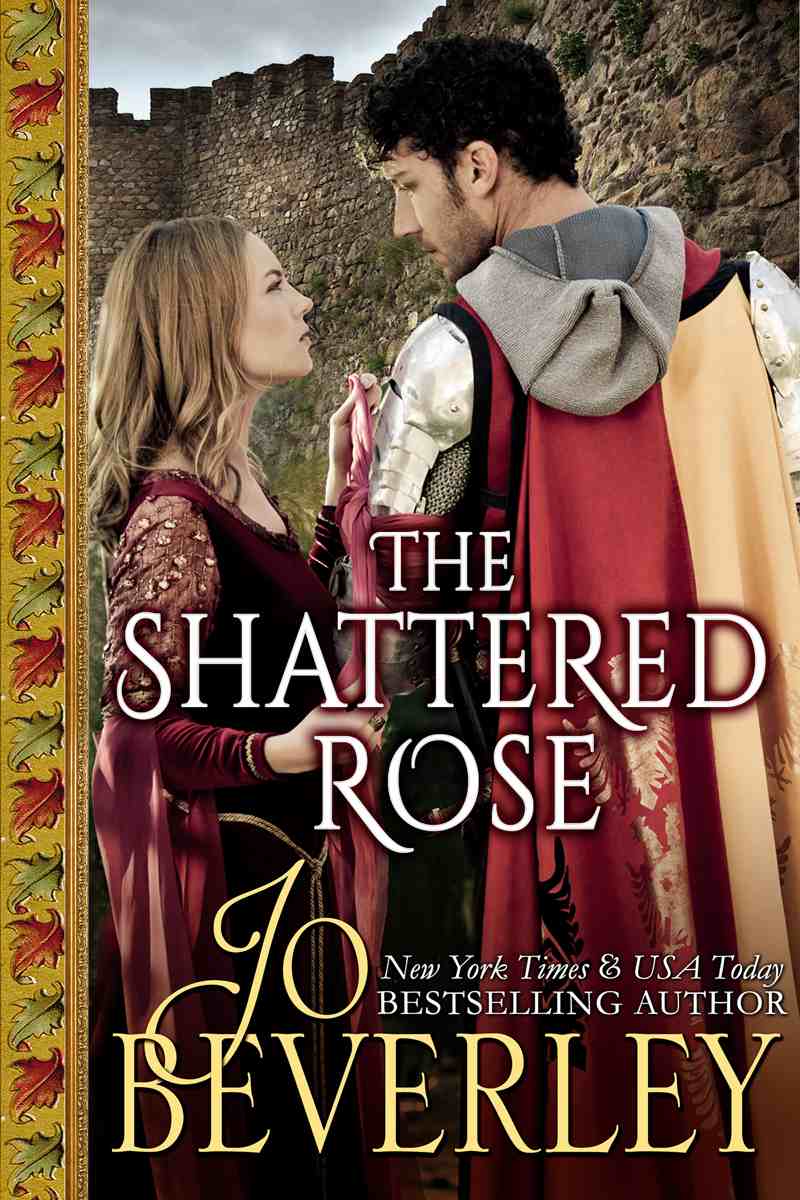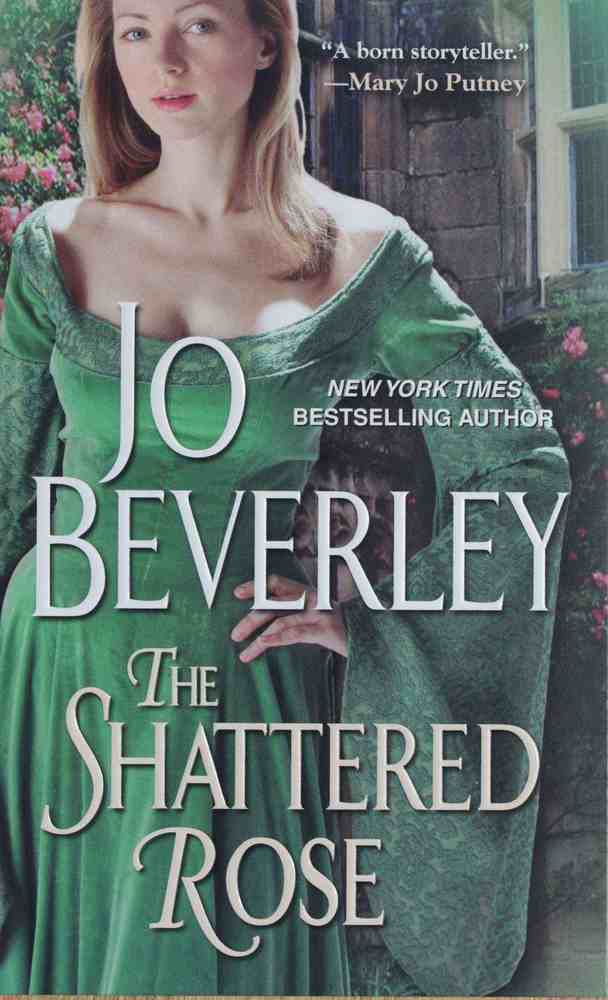 Galeran of Heywood returns from the Crusade, longing for his wife and the child he has never seen, only to find his life in pieces and political forces working to complete the destruction. Over old wounds and betrayals, Galeran and Jehanne piece their life back together, but their fate still lies in the hands of the king.


"This powerful, thought-provoking romance is sure to win her new devotees will keep you turning the pages until the satisfying conclusion." Romantic Times

Excerpt from The Shattered Rose
Buy now for your e-reader.

LORD OF MIDNIGHT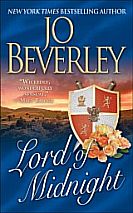 Available as an e-book. Click here.
Also available in print.
**Starred review from Publishers Weekly.**

On the death of her father, Claire of Summerbourne must welcome a stranger to her home, and marry him to save her family. What will she do, however, when she finds out that she has married her beloved father's executioner?



Read an excerpt here.
Buy now from AMAZON.COM

Medieval novellas.
DAY OF WRATH (RITA finalist) in STAR OF WONDER A millenial collection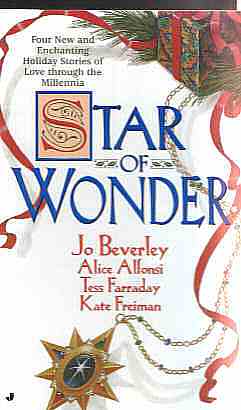 Berkley, November 1999. 0-515-12653-5
Available in the e-collection Mistletoe Kisses and Yuletide Joy.
Click on the link to buy.


Day Of Wrath. 999 AD. When her childhood friend and love marries another, Wulfhera of Froxton enters a nunnery, but Viking raids and the coming of the millennium cause her to flee home. There she finds Raef a widower, but intent only on despair and suicidal vengeance. Then, on the shortest day of the year, she finds a precious jewel in the belly of a fish. Is it the fabled Star of the Magi? Can it really help her to bring peace, and save the life of the man she loves?
Read an Excerpt

THE WISE VIRGIN in THE BRIDES OF CHRISTMAS
Harlequin Historicals, October 1999. 0-373-83417-9
This all medieval collection was reissued in October 2005.
This story was reissued with different companions in A Bride For Christmas, October 2008


The Wise Virgin. It was a daring attempt to rescue Lady Nicolette de Montelan before her father finds out that she's pregnant with an enemy family's child, but it goes awry because Nicolette's cousin Joan has played the Blessed Virgin in the Christmas reenactment. After all, for Nicolette to do it would have been sacrilege!

Now, however, Lady Joan finds herself trapped in a cave on Christmas Eve with the great Edmund de Grave, the Golden Lion, and neither of them are pleased about it. He's annoyed that his plan has been spoiled and worried about his brother, now in enemy hands. She's disappointed that a distant hero has turned out to be the sort to get a lady with child outside of marriage. A mighty battle ensues, but one that ends up breaking ancient hatreds and bringing the true spirit of Christmas and love to all.
Read an Excerpt



THE RAVEN AND THE ROSE...in Chalice of Roses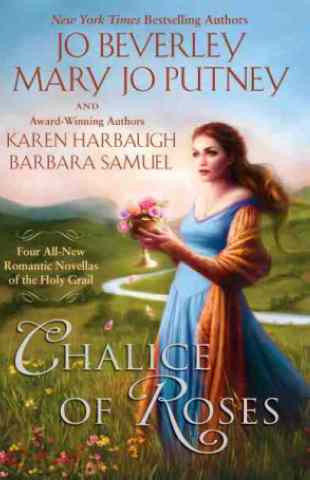 NAL Trade paperback January 2010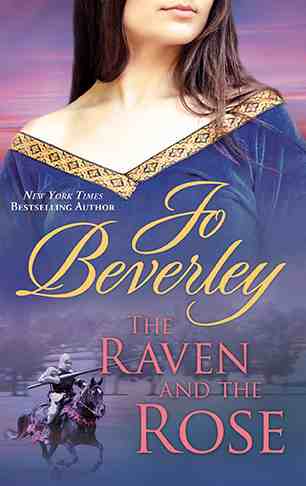 The novella is available alone as an e-book
Click on the link to buy.
A nun is summoned to escape her convent and her vows to recruit a knight. Together, or so she is told, they can summon the Holy Grail and bring peace to war-ravaged England. Is the calling true, or is it the work of the devil?
Read chapter one of my story here




Follow me on Facebook by clicking the box.



However, Facebook doesn't send every message to everyone, so you might want to sign up for my newsletter below.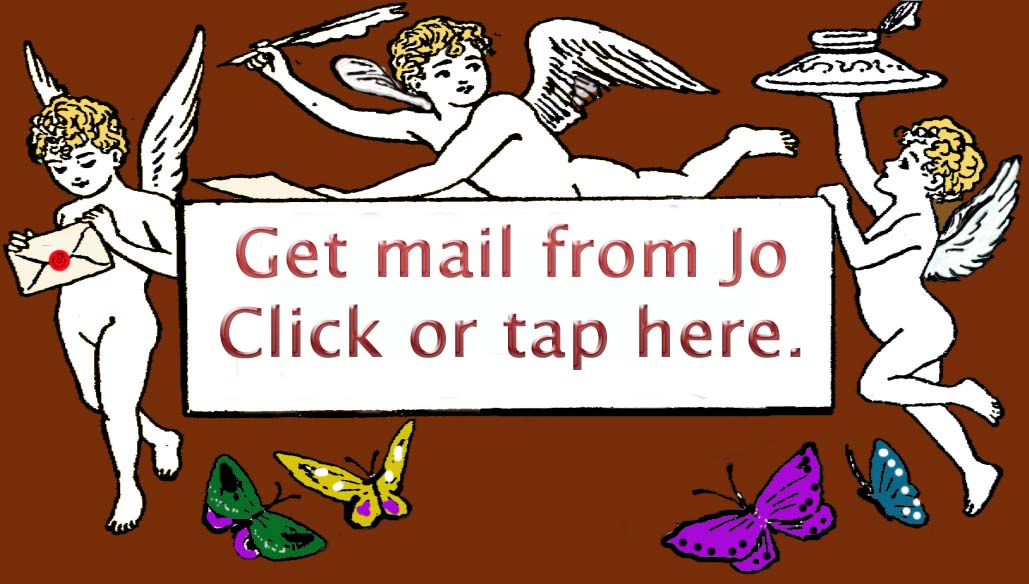 If you'd like to talk to other readers about the books, you can join a chat list by e-mailing here

Now, there's also a blog which Jo shares with other historical romance authors. Check out Word Wenches

Back to the annotated list index
Onward to the annotated list of regency historical romances
Back to the site menu